Lesson 25 - Las Noticias (The News)
Navigation: Home → Course → Lesson 25 → Dialogue
Pages in this lesson: News - Preterite - Dialogue - Reading - Quiz
This page: Read an interview in Spanish between a reporter and an eyewitness to a bank robbery.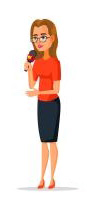 Entrevista con un Testigo Presencial


(Interview with an Eyewitness)

Dialogue Lesson
Key Vocabulary
The following is a list of key vocabulary that you will need to know to understand the lesson. Click on the word to hear the pronunciation.
Note: When referring to the collective police force, you say "la policía." When you refer to one officer, you say "el policía" for a male officer or "la policía" for a female officer.
Practice
Section 1
Select the correct translation.
Listening
Listen to the dialogue and answer the questions.
Dialogue
Now read the dialogue.
REPORTERA - Soy Adriana García del Canal 12 en la escena del crimen. Estoy entrevistando a un testigo presencial del robo del banco. Usted trabaja en el banco, ¿no?
TESTIGO PRESENCIAL - Sí. Soy cajero.
REPORTERA - ¿Y a qué hora entró el ladrón al banco?
TESTIGO PRESENCIAL - A las 2:00 de la tarde el ladrón entró al banco y caminó hacia mí. Me saludó y luego me pasó una nota diciendo, "Quiero todo el dinero de la caja inmediatamente. Tengo una pistola."
REPORTERA - ¡Qué susto! ¿Y luego que pasó?
TESTIGO PRESENCIAL - Metí el dinero en su bolsa y devolví la bolsa al ladrón.
REPORTERA - ¿Y luego corrió el ladrón del banco?
TESTIGO PRESENCIAL - Sí. Tomó la bolsa y corrió del banco. Llamé a la policía y llegaron en tres minutos aproximadamente. El policía dice que encontraron al ladrón con la bolsa del dinero en la mano a cinco cuadras de aquí. Arrestaron al ladrón y está en la cárcel ahora.
REPORTERA - ¿Cómo está usted ahora después de esta experiencia?
TESTIGO PRESENCIAL - Estoy alterado pero aliviado al saber que está en la cárcel.
REPORTERA - Gracias. Soy Adriana García del Canal 12.
Dictation
Dictations are great for practicing listening and spelling in Spanish. Click on "Listen" to hear the dictation of a sentence. The sentence will be read once quickly and then repeated slowly with pauses to write the words. Write the sentence in the textbox. Click on "Check" to check your answer. Don't forget to use correct capitalization, accents and punctuation, or the computer will mark it as incorrect.


Reading
Lesson 25 - Las Noticias (The News)
News - Preterite - Dialogue - Reading - Quiz
Important Links
Pronouns   -   Pronunciation   -   Verbs