Lesson 23 - Quehaceres Domésticos (Housework)
Navigation: Home → Course → Lesson 23 → Dialogue
Pages in this lesson: Housework - Obligation Verbs - Dialogue - Reading - Quiz
This page: Listen to and read a dialogue between a parent and teen about chores.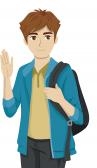 Quehaceres


(Chores)
Key Vocabulary
The following is a list of key vocabulary that you will need to know to understand the lesson. Click on the word to hear the pronunciation.
Listening
1. ¿Cuáles quehaceres tiene que hacer hoy antes de salir con sus amigos? (tres quehaceres)
Dialogue
Now read the dialogue.
HIJO - Mamá, voy a salir con mis amigos.
MAMÁ - Tienes que hacer los quehaceres antes de salir.
HIJO - ¿Puedo hacer los quehaceres más tarde? Ya van a salir mis amigos.
MAMÁ - No, hay que hacer los quehaceres primero.
HIJO - Está bien. Puedo ver a mis amigos más tarde. ¿Qué tengo que hacer?
MAMÁ - Necesitas limpiar tu habitación, tender tu cama y sacar la basura. Puedes esperar a cortar el césped hasta mañana para poder salir con tus amigos hoy.
HIJO - Está bien. Mi habitación ya está limpia. Solo necesito tender mi cama y sacar la basura.
Dictation
Dictations are great for practicing listening and spelling in Spanish. Click on "Listen" to hear the dictation of a sentence. The sentence will be read once quickly and then repeated slowly with pauses to write the words. Write the sentence in the textbox. Click on "Check" to check your answer. Don't forget to use correct capitalization, accents and punctuation, or the computer will mark it as incorrect.


Reading
Lesson 23 - Quehaceres Domésticos (Housework)
Housework - Obligation Verbs - Dialogue - Reading - Quiz
Important Links
Pronouns   -   Pronunciation   -   Verbs