Lesson 5 - Escuela (School)
Navigation: Home → Course → Lesson 5 → Reading
Pages in this lesson: Classroom - Gender - Dialogue - Reading - Quiz
This page: Review the names of school supplies and the verb "estar."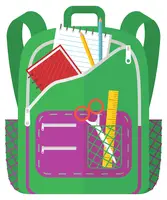 Lista de Útiles Escolares
(List of school supplies)
Reading Lesson
Reading
Read the following list of school supplies that students need to take on the first day of school and answer the questions.
Practice
Write sentences about what is and isn't on the list. Don't forget to use correct capitalization, accents and punctuation, or the computer will mark it as incorrect.
Examples:
una regla → Una regla está en la lista.
libros → Libros no están en la lista.
Writing
Make sentences about what you need (Necesito = I need) for school. If you're not currently in school, use your imagination.
Examples:

Necesito dos lápices.
Necesito cuatro cuadernos.
If you want to type a special character (like an accented letter) in the comments section, you could do one of the following . . .
Select and copy the character that you need → á é í ó ú ü ñ ¿ ¡ Á É Í Ó Ú Ü Ñ « »
Use special codes on your computer if you have numeric keypad (instructions HERE).
Type your sentences into the text box below and use the special character buttons provided. Then select and copy your text and paste it into the comments section.
If you see an error in someone else's sentence, please respond with the correction. Comments that are not from "Janet Castrejon" (the author of this page) do not represent Simplified Spanish. If someone is writing inappropriate comments on this webpage, please send a message to [email protected] and include the page that you saw the comment on.


Quiz
Lesson 5 - Escuela (School)
Classroom - Gender - Dialogue - Reading - Quiz
Important Links
Pronouns   -   Pronunciation   -   Verbs