Lesson 2 - ¿Cuántos? (How many?)
Navigation: Home → Course → Lesson 2 → Numbers
Pages in this lesson: Numbers - Plurals - Dialogue - Reading - Quiz
This page: Learn the numbers in Spanish.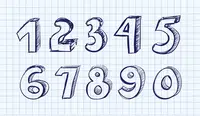 Numbers in Spanish
Vocabulary Lesson
In this lesson you will learn the numbers in Spanish. Click on the name of the number to hear the pronunciation and repeat. Later complete the exercises to practice with the numbers.
Practice
Write the number in the space (in words). Click on "Check" to check your answer.


Plurals
Lesson 2 - ¿Cuántos? (How many?)
Numbers - Plurals - Dialogue - Reading - Quiz
Important Links
Pronouns   -   Pronunciation   -   Verbs