Lesson 10 - Descripción de Personas (Describing People)
Navigation: Home → Course → Lesson 10 → Reading
Pages in this lesson: Physical Descriptions - ser/estar/tener - Dialogue - Reading - Quiz
This page: Practice with vocabulary for describing people and the verbs ser, estar and tener in this reading lesson about online dating.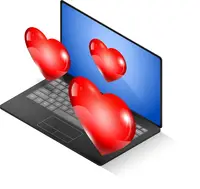 Citas en Línea


(Online Dating)

Reading Lesson
Key Vocabulary
The following is a list of key vocabulary that you will need to know to understand the lesson. Click on the word to hear the pronunciation.
Reading
When looking for love through online dating, people read descriptions and look at photos of other people. Read the following descriptions and then see if you can figure out which description goes with each photo.
Carmen
Me llamo Carmen. Tengo 25 años. Tengo el pelo rubio y los ojos azules. Soy una persona alegre y cariñosa. Busco una persona inteligente y amable.
Aurora
Mi nombre es Aurora. Tengo 23 años. Tengo el pelo largo y negro y los ojos negros. Soy un poco introvertida. Busco un hombre serio pero cariñoso.
Valeria
Soy Valeria. Tengo 30 años. Tengo el pelo castaño y ondulado y los ojos cafés. Soy trabajadora y extrovertida. Busco un hombre simpático y honesto.
Carlos
Soy Carlos. Tengo 27 años. Tengo el pelo rubio y los ojos azules. Soy trabajador y honesto. Busco una mujer inteligente y simpática.
Juan
Me llamo Juan. Tengo 28 años. Tengo el pelo negro y lacio. Tengo una barba y un bigote. Soy serio y un poco introvertido. Busco una persona honesta y responsable.
Jorge
Soy Jorge. Tengo 29 años. Soy calvo y tengo los ojos negros. Soy extrovertido. Busco una mujer que es alegre y simpática.
Writing
Write a description of yourself similar to the ones that you read above. Use the physical description words that you learned in this lesson as well as the personality adjectives that you learned in lesson 3.
If you want to type a special character (like an accented letter) in the comments section, you could do one of the following . . .
Select and copy the character that you need → á é í ó ú ü ñ ¿ ¡ Á É Í Ó Ú Ü Ñ « »
Use special codes on your computer if you have numeric keypad (instructions HERE).
Type your sentences into the text box below and use the special character buttons provided. Then select and copy your text and paste it into the comments section.
If you see an error in someone else's sentence, please respond with the correction. Comments that are not from "Janet Castrejon" (the author of this page) do not represent Simplified Spanish. If someone is writing inappropriate comments on this webpage, please send a message to [email protected] and include the page that you saw the comment on.


Quiz
Lesson 10 - Descripción de Personas (Describing People)
Physical Descriptions - ser/estar/tener - Dialogue - Reading - Quiz
Important Links
Pronouns   -   Pronunciation   -   Verbs