Lesson 22 - Pasatiempos (Pastimes)
Navigation: Home → Course → Lesson 22 → Reading
Pages in this lesson: Pastimes - Adverbs of frequency - Dialogue - Reading - Quiz
This page: Read a magazine article about hobbies in Spanish.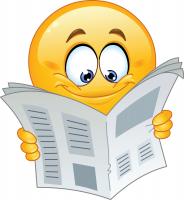 Magazine Article
Reading Lesson
Key Vocabulary
The following is a list of key vocabulary that you will need to know to understand the lesson. Click on the word to hear the pronunciation.
Practice
Section 1
Select the correct translation.
Verbs
Practice
Section 2
Select the correct translation.
Practice
Section 3
Write the present tense forms of the irregular verbs.
Example:
tener (to have)
yo - tengo
tú - tienes
él/ella/usted - tiene
nosotros/nosotras - tenemos
vosotros/vosotras - tenéis
ustedes/ellos/ellas - tienen
1) encontrar (to find)
2) dormir (to sleep)
3) perder (to lose)
Reading
¿Cuáles son los pasatiempos más populares?
Aun en el ajetreado mundo moderno, la gente encuentra el tiempo para realizar las actividades que les gustan. ¿Cuáles son estos pasatiempos? Tenemos los resultados basados en nuestra encuesta anual de pasatiempos de 500 personas. Aquí está un resumen de los resultados.
Según la encuesta, el pasatiempo más popular es cocinar. Todos tenemos que comer, pero mucha gente considera cocinar una actividad que disfrutan. Buscan recetas interesantes, experimentan con ingredientes diferentes y sirven sus creaciones a sus seres queridos.
El segundo pasatiempo más popular es leer. Leen libros, revistas, periódicos o artículos en línea. A algunas personas les gusta leer antes de dormir, mientras que otras leen el periódico en la mañana.
Otras actividades populares son los videojuegos, viajar, hablar con amigos y los juegos de mesa. En esta encuesta, los videojuegos están aumentando más en popularidad cada año, mientras que los juegos de mesa están perdiendo popularidad.
Las actividades menos populares son tocar un instrumento musical y escribir. Aprender a tocar un instrumento musical, sin embargo, es una actividad que mucha gente quiere aprender según la encuesta. Otra actividad que muchas personas dicen que quieren aprender es la fotografía.
Practice
Section 4
Select Verdad (True) or Falso (False).
Writing
What are your top five favorite pastimes, and how often do you do each of them?
Siempre veo la televisión.
If you want to type a special character (like an accented letter) in the comments section, you could do one of the following . . .
Select and copy the character that you need → á é í ó ú ü ñ ¿ ¡ Á É Í Ó Ú Ü Ñ « »
Use special codes on your computer if you have numeric keypad (instructions HERE).
Type your sentences into the text box below and use the special character buttons provided. Then select and copy your text and paste it into the comments section.
If you see an error in someone else's sentence, please respond with the correction. Comments that are not from "Janet Castrejon" (the author of this page) do not represent Simplified Spanish. If someone is writing inappropriate comments on this webpage, please send a message to [email protected] and include the page that you saw the comment on.


Quiz
Lesson 22 - Pasatiempos (Pastimes)
Pastimes - Adverbs of frequency - Dialogue - Reading - Quiz
Important Links
Pronouns   -   Pronunciation   -   Verbs