Lesson 19 - Restaurante (Restaurant)
Navigation: Home → Course → Lesson 19 → Reading
Pages in this lesson: Restaurant foods - gustar - Dialogue - Reading - Quiz
This page: Practice with the names of foods in Spanish and the menu sections in this reading activity.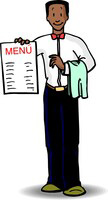 El Menú
Reading Lesson
Key Vocabulary
The following is a list of key vocabulary that you will need to know to understand the lesson. Click on the word to hear the pronunciation.
Practice
Section 1
Select the correct translation.
Reading
Read the following menu and answer the questions.
Practice
Section 2
Select if the statement is true (verdad) or false (falso) based on the reading.
Practice
Section 3
What would you order from the menu in this reading lesson? Select one item in each category. There is no correct or incorrect answer on these. It's just a matter of opinion.
More Practice
Create your own menu for an imaginary restaurant on a piece of paper.


Quiz
Lesson 19 - Restaurante (Restaurant)
Restaurant foods - gustar - Dialogue - Reading - Quiz
Important Links
Pronouns   -   Pronunciation   -   Verbs