Lesson 18 - Mascotas (Pets)
Navigation: Home → Course → Lesson 18 → Dialogue
Pages in this lesson: Pets - Adjective placement - Dialogue - Reading - Quiz
This page: Practice with pet vocabulary in this dialogue about a mother shopping for a pet for her children.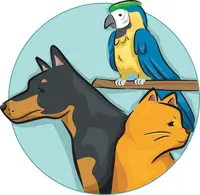 La Tienda de Mascotas


(The Pet Store)

Dialogue Lesson
Key Vocabulary
The following is a list of key vocabulary that you will need to know to understand the lesson. Click on the word to hear the pronunciation.
Practice
Section 1
Select the correct translation.
Dialogue
Now read the dialogue.
SALES CLERK - Bienvenida a la tienda de mascotas. ¿Buscas algo especial?
MOTHER - Mis hijos quieren una mascota. ¿Cuál es la mejor mascota para los niños?
SALES CLERK - Los perros son buenas mascotas porque los niños pueden jugar con ellos.
MOTHER - Vivimos en un apartamento. Creo que es mejor un animal pequeño.
SALES CLERK - Las cobayas o hámsteres son mascotas pequeñas que pueden vivir en una jaula en el apartamento. Los peces son otra opción para los apartamentos porque viven en un acuario. Los loros no son buena opción porque pueden ser ruidosos.
MOTHER - Mi amiga tiene una tortuga. ¿Tienes tortugas?
SALES CLERK - Sí. También tenemos ranas y lagartijas.
MOTHER - Voy a comprar un hámster. También necesito comprar una jaula, la rueda y todo.
SALES CLERK - Está bien. Aquí está todo para el hámster.
Dictation
Dictations are great for practicing listening and spelling in Spanish. Click on "Listen" to hear the dictation of a sentence. The sentence will be read once quickly and then repeated slowly with pauses to write the words. Write the sentence in the textbox. Click on "Check" to check your answer. Don't forget to use correct capitalization, accents and punctuation, or the computer will mark it as incorrect.
Writing
What is the best pet in your opinion?
If you want to type a special character (like an accented letter) in the comments section, you could do one of the following . . .
Select and copy the character that you need → á é í ó ú ü ñ ¿ ¡ Á É Í Ó Ú Ü Ñ « »
Use special codes on your computer if you have numeric keypad (instructions HERE).
Type your sentences into the text box below and use the special character buttons provided. Then select and copy your text and paste it into the comments section.
If you see an error in someone else's sentence, please respond with the correction. Comments that are not from "Janet Castrejon" (the author of this page) do not represent Simplified Spanish. If someone is writing inappropriate comments on this webpage, please send a message to [email protected] and include the page that you saw the comment on.


Reading
Lesson 18 - Mascotas (Pets)
Pets - Adjective placement - Dialogue - Reading - Quiz
Important Links
Pronouns   -   Pronunciation   -   Verbs