Lesson 16 - La Casa (The House)
Navigation: Home → Course → Lesson 16 → Reading
Pages in this lesson: Furniture - Hay - Dialogue - Reading - Quiz
This page: Practice with the verb hay and the rooms of the house in Spanish with this reading about Bill Gates' house.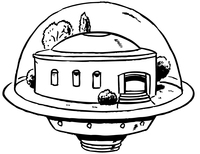 La Casa del Futuro


(The House of the Future)

Reading Lesson

 
Key Vocabulary
The following is a list of key vocabulary that you will need to know to understand the lesson. Click on the word to hear the pronunciation.
*The word si without an accent is if, and the word sí with an accent is yes.
Practice
Section 1
Select the translation.
Verbs
The following is a list of verbs that you will need to know to understand the reading.
Practice
Section 2
Select the translation.
Practice
Section 3
Write the present tense forms of the irregular verbs.
Example:
ir (to go)
yo - voy
tú - vas
él/ella/usted - va
nosotros/nosotras - vamos
vosotros/vosotras - vais
ustedes/ellos/ellas - van
1) incluir (to include)
2) poner (to put)
3) querer (to want)
4) colgar (to hang)
5) mostrar (to show)
Reading
La Casa del Futuro
Bill Gates, el fundador de Microsoft, tiene una casa futurística en Medina, Washington. En la casa hay siete habitaciones, veinticuatro baños y seis cocinas. También hay una biblioteca grande, una sala de trampolín y un cine. El sistema de seguridad incluye cámaras y sensores en el piso. El sistema informático de la casa ajusta automáticamente la iluminación y la temperatura y puede poner automáticamente tu música favorita cuando entras a cada cuarto. En lugar de colgar cuadros de arte en la pared, Bill Gates tiene pantallas de computadora que muestran arte o fotografías. Si Bill Gates quiere tener una fiesta, puede recibir hasta 200 invitados en su salón de recepción. Afuera, hay una piscina de 60 pies de largo con un sistema de sonido subacuático y varios garajes grandes que pueden almacenar hasta 23 carros.
Practice
Section 4
Select the correct answer to each question.
Writing
Write a description of an imaginary futuristic house or the house of your dreams.
If you want to type a special character (like an accented letter) in the comments section, you could do one of the following . . .
Select and copy the character that you need → á é í ó ú ü ñ ¿ ¡ Á É Í Ó Ú Ü Ñ « »
Use special codes on your computer if you have numeric keypad (instructions HERE).
Type your sentences into the text box below and use the special character buttons provided. Then select and copy your text and paste it into the comments section.
If you see an error in someone else's sentence, please respond with the correction. Comments that are not from "Janet Castrejon" (the author of this page) do not represent Simplified Spanish. If someone is writing inappropriate comments on this webpage, please send a message to [email protected] and include the page that you saw the comment on.


Quiz
Lesson 16 - La Casa (The House)
Furniture - Hay - Dialogue - Reading - Quiz
Important Links
Pronouns   -   Pronunciation   -   Verbs