Learn Spanish online for FREE!
Learn Spanish online for FREE from the comfort of your home studying just one lesson a week. Our lessons focus on the key vocabulary and grammar that you need to learn to speak quickly. The lessons are interactive with audio to hear the pronunciation of the words.
The Spanish Course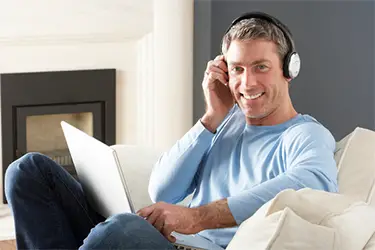 Study one lesson a week in your free time in the comfort of your home. Each lesson includes . . .
Vocabulary - A list of vocabulary words relating to the theme of the lesson with audio to hear and practice with the pronunciation
Grammar - A detailed explanation of the grammar in each lesson with interactive practice exercises to reinforce your learning
Dialogue - A listening and dialogue exercise to practice with the new vocabulary and grammar from the lesson
Reading - A reading and writing exercise to reinforce the newly-learned material
Quiz - A short quiz to assess your learning
Learn the 1000 most common words in Spanish
A study by Mark Davies of Brigham Young University found that by learning the 1000 most common words in a language, you can understand 76% of all nonfiction writing, 79.6% of all fiction writing and 87.8% of all oral speech. When you are a beginning language learner, why waste your time learning uncommon words? Our "1000 Words" vocabulary lessons will get you up and running quickly in Spanish by teaching you the most common words based on information from the Real Academia Española. The 1000 Words lessons include . . .
An image which is helpful for visual learners
Audio to hear and practice with the pronunciation of the word
A definition and sentence example to get familiar with the word in context
An opportunity to write a practice sentence using the new word to reinforce your learning
A quick review exercise of previous words so that you don't forget them
Visit our other websites
www.bilingualkiddos.com
Information and resources for raising bilingual children
www.mealkitinfo.com
Meal kit program reviews
www.passporttoenglish.com
English lessons online
www.inglesmundial.com
Cursos de inglés online
www.sidehustlesite.com
How to create an online side hustle
Important Links
Pronouns   -   Pronunciation   -   Verbs